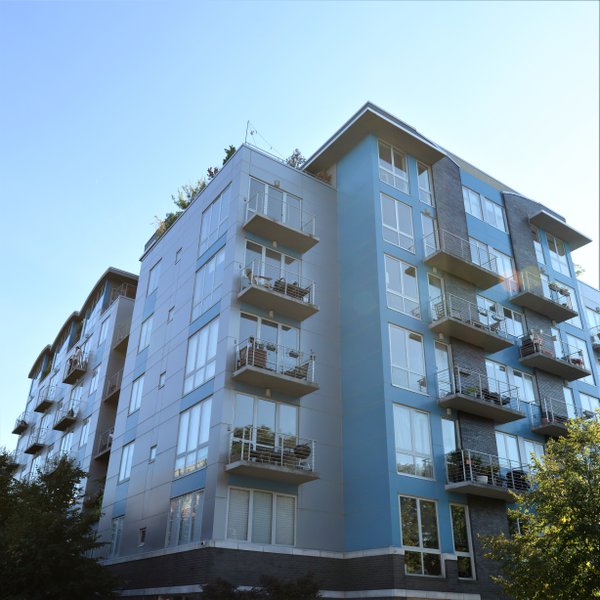 Welcome to the 415 Leonard Street Website
If you are a Homeowner or Resident of the 415 Leonard Street and visiting this site for the first time, you must register and sign in to access the resident services section and take advantage of the resident classifieds.
About 415 Leonard Street
Located in one of New York's most exciting and dynamic neighborhoods, Williamsburg, dubbed by some as "the hipster capital of the world", The Aqua at 415 Leonard Street is an uber-luxury condominium that offers studios, spacious two-bedroom apartments and bi-level penthouses. The 7-story, 54-unit building with a subtly beautiful light-blue façade overlooks the 35-acre McCarren Park, which has a year round Farmer's market every Saturday, tennis courts, running tracks, softball field, dog park, skateboard park, a massive public pool, and lush greenery.
The residences epitomize modern living, with floor-to-ceiling windows, allowing plentiful natural light, open layouts, giving the apartments an airy feel, hardwood floors, fully equipped chef's kitchens, boasting top-of-the-line appliances, central heating and air conditioning, stylish bathroom designs, and more. Amenities on offer include a part-time doorman, a common outdoor deck with a barbeque grill, bike storage, private storage, and parking spots for an additional fee.
415 Leonard Street is at walking distance from the Bedford Avenue, Graham Avenue, and Lorimer Street stations, which provide access to the L-train running across Manhattan and North Brooklyn. Also a few blocks away is the G-train at Nassau Avenue which runs vertically across Brooklyn. With its convenient location, and the vast array of food, recreation, entertainment, and shopping options, ranging from the boutique to the more boutique to the bohemian, there are very few locations in New York that are as exhilarating.
Apartments for Sale in 415 Leonard Street
| Price | Beds | Baths | Sq Ft |
| --- | --- | --- | --- |
| $999,000 | 2 BD | 2 BA | 1,255 |
| $1,750,000 | 2 BD | 2 BA | 1,131 |
This pricing is approximate and should be used for informational purposes only, although it has been copied from sources deemed to be reliable.
If you are interested in apartments in the 415 Leonard Street call 212.390.1908 for further information.